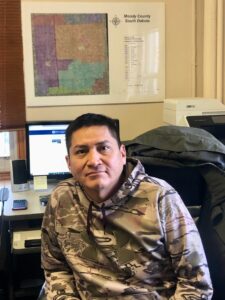 Veteran's Service Officer: Jerrick Charles

Mailing Address:
Moody County VSO
101 E Pipestone Ave. Suite B
Flandreau, SD   57028
Office Phone (605) 997-3251
The Moody County Veteran's Service Office is located on the first floor of the Moody County Courthouse, in Flandreau, SD.  Our purpose is to serve all Veterans & their dependents with any possible Veterans benefits they may be entitled to.
To be eligible for most Veterans Benefits your service must be during a declared war time period, and you must have an honorable discharge. These benefits would be available to you no matter where you served.
Medical care through the Veterans Hospitals require only that you have an honorable discharge with the extent of benefits determined on income/net worth, giving first priority to Veterans with a service connected condition.
Some possible benefits we would be proud to answer any questions on or assist you with are:
Pension * Compensation * Home Loans * Medical Care * Education * Dependency * Indemnity Compensation (DIC) * Parents (DIC) * Burial Benefits
These benefits and others are available through the South Dakota Division of Veterans Affairs.