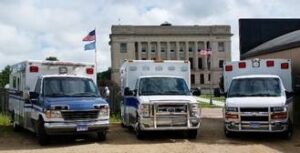 Mailing Address:
Moody County Ambulance
108 E Pipestone Ave. Suite B
Flandreau, SD 57028
Phone: (605) 573-3668
Mission Statement: We are committed to providing the highest standard of care to the residents and visitors of Moody County. Using evidence-based medicine, We will meet the health care needs of our community while continuing to improve overall health of all our stakeholders.
About Us: Moody County Emergency Medical Services provides a 24-hour Advanced Life Support Ambulance for all Moody County residents and visitors to the County. MCEMS partners with our community First Responders to provide immediate medical services when called upon. The ambulance team consists of 3 full-time staff and about 15 part-time healthcare providers and drivers. This staff operates 2 ALS capable ambulances equipped with Lifepak15's, Stryker Power Cots, Stryker Stair Chairs, and many other tools to provide care. MCEMS provides stand-by services for fires, athletic events, and other community functions. The ambulance team can also provide CPR/First Aid Training, car seat checks, and other community education.
CPR/First Aid Fees: We can offer both AHA and Red Cross Certifications.
Adult/Child/Infant (BLS) CPR/AED 
 $             40.00
Blended/Heartcode (BLS) 
 $             30.00
Heartsaver/Community CPR
 $             35.00
First Aid
 $             30.00
Combine any CPR with First Aid
 $             50.00
*Discounts offered to local fire/police/hospital staff/county/groups.